Advanced Imaging and Tomography
Machine vision is one of the most powerful nondestructive methods of object exploration, but it is limited by object surface. For internal structure analysis (in medicine, geology, quality control, etc.) one requires the methods of tomography. Advanced imaging and tomography track will provide a forum to present and discuss the latest advances and state of the art approaches in tomography. We intend to organize a fruitful exchange of opinions and ideas between specialists in machine vision and tomography, as well as encourage and facilitate interdisciplinary communication amongst university researches and industry professionals involved in tomographic software and hardware development.

Chairman: Prof. Dmitry P. Nikolaev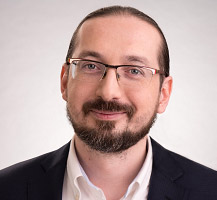 About Prof. Dmitry Nikolaev: he was born in Moscow, Russia. He obtained his Master degree (in physics) in 2000 and Ph.D. degree (in computational methods of image processing) in 2004 from Moscow State University. Since 2007 he is a head of the Vision Systems Lab. at the Institute for Information Transmission Problems, RAS. His research activities are in the areas of computer vision with primary application to color image understanding. Since 2005 he gives a course "Image processing" in the Moscow Institute of Physics and Technology, take up an appointment of Assoc. Prof in 2008. At 2015 he has more than 120 publications.

The sessions covers (but is not limited to) papers on

– MV methods in tomography and tomography methods in MV
– X-ray, T-ray, electron, positron, ultrasound, microwave, etc. imaging
– Multichannel imaging and data fusion
– 3D/4D reconstruction in translucent media
– Computational aspects and throughput of 3D/4D imaging and reconstruction
– Metrological problems in imaging and tomography
– Imaging systems calibration and autocalibration
– 3D/4D visualization
– Machine learning in tomography
– Imaging and tomography modeling and simulation
– Big tomographic data
– New annotated datasets


Important Dates

Proposal Deadline September 25, 2019
Notification October 08, 2019
Registration October 15, 2019